Solar is booming! There are so many reasons to go solar today , including reducing your carbon footprint, pairing solar panels with an electric vehicle charging station, having battery backup in case of blackouts or electricity grid failures, and just wanting to reduce your electricity bill.
Needing to have the money upfront to purchase a solar energy system is a myth. There are many ways to invest in a solar electricity generation system with $0 upfront, both in the residential and commercial and industrial (C&I) applications of solar panels.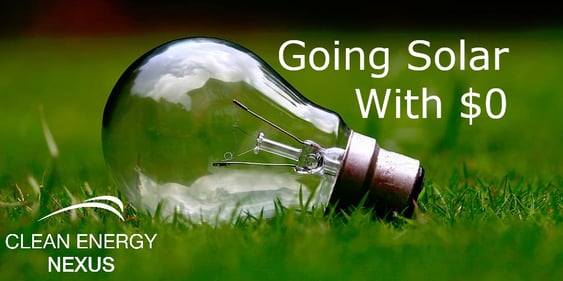 Residential
Many residential solar panel installers are offering to finance solar system installations over a fixed term. This removes one of the barriers to investing in renewable energy and is a great option for someone who is able to financially commit to the extra monthly expense but may not have the upfront capital to purchase the system outright.
Taking advantage of a $0 down finance option can be a compelling reason to go solar, but we recommend taking the following 5 steps before committing to installing a solar energy system on your home.
1. Make sure your solar system is right-sized with a minimum of 12 months of analysis of your current electricity bills.
2. Prepare to go solar by making any big changes to your consumption a minimum of a year in advance (see above). This includes replacing regular light bulbs with LED throughout your home, completing installations of things like electric vehicle (EV) charging stations, pools, HVAC installations and repairs, radiant barrier installation in the attic, upgraded windows or insulation, etc..
3. Choose an installer with positive local reviews and experience that is certified by the solar panel manufacturer to install their solar panels to make use of the entire warranty.
4. Research the manufacturer of the solar panels you're interested in personally and read reviews on each of their products, their reliability, their warranty and the warranty process, and overall consumer satisfaction.
5. Budget in solar panel maintenance and research solar incentives in your area to see if there are any you're able to take advantage of. Also keep in mind that while national and state policies tend to encourage solar and encourage awarding permits for new solar systems, your local HOA or POA may have restrictions that make it less viable for you. If your installer has worked with others in your community, have them connect you to them to see what the permit process is like in your area and what rebates they were able to take advantage of.
5. Commit to stay in your current home for the length of time you will be paying down the solar system.
Commercial & Industrial (C&I)
Investors focused on adding ESG (Environmental, Social, and Governance - read more on the definition here) investments to their portfolio are looking for renewable energy projects to invest in. The benefits of allowing an investor to pay for the solar energy system on your commercial building are many; they not only fund the project upfront (so you can save your hard-earned capital), but they also pay for the maintenance and any needed repairs during the life of the contract you sign with them. You also benefit from a fixed electricity rate for the length of the contract, and if you choose to add battery storage to your system, you'll also benefit from backup electricity to ensure business continuity in the event of a grid failure.
Our list of 6 recommended steps to take before choosing to go solar in the C&I space is similar to the 5 steps above for residential solar, but with a few major differences.
1. Consider hiring a company that will complete a company-wide energy savings audit for you before installing a solar system to ensure you right-size your system.
2. Look at your business model and operating costs. How much are you currently paying for electricity and is it essential to your business operations? Will you save money with a solar electricity generation system or would your benefits mainly lie in the battery storage backup system? (Depending on location and current electricity costs, most businesses save 20-40% on their electricity bills when they go solar).
3. The C&I solar space is comprised of many different kinds of businesses. Choose to work with businesses that offer a transparent model, consistent communication throughout the process, have great reviews both from current and previous contractors and clients, and who have a network of contacts they can refer you to that are reliable and proven to save you time researching and choosing each partner.
4. Insist on Tier 1 equipment and forego the new and cutting-edge equipment in favor of reliability, lower maintenance costs and downtime, and a great warranty.
5. Look into your local community and state solar policies (or hire a company to do this for you). Many states have extra incentives for going solar and have begun to make adding a solar energy production system to your building easier, though you will likely still need a permit to add a solar array on your building or property.
6. Commit to staying in your current building for the length of the contract. Most investors want to sign 10-20 year contracts to ensure they maximize their investment. If you think you'll want the option of buying out the contract to own the system yourself before then, ask to have that added into your contract!
We hope that by providing education through up-to-date information on the solar industry we're both reducing another barrier to investing in solar for both residential and C&I applications, and working towards meeting our goal of increasing the adoption of renewable energy.
Let us know what you'd like us to write about next by leaving us a comment below or reaching out to us at info@cleanenergynexus.com!