When you're a homeowner who wants to invest in placing solar panels on their roof, you either float the capital upfront or you finance with the solar company you choose to work with. The same options are available for commercial and industrial (C&I) clients who want to install a solar system at their place of business with the addition of a third option known as third-party ownership: an investor may also finance the project and ultimately own the system, while the business or corporation signs a contract to purchase the electricity produced from the solar project instead of owning the equipment.
Investors in commercial and industrial (C&I) solar projects look for projects that;
1. Have the right tax credit structure and return profile, while passing ESG investment diversity tests,
2. Have a creditworthy offtaker (either investment grade, or with strong historical financials),
3. Use bankable or "Tier-1" equipment, and
4. Can be built correctly and on time.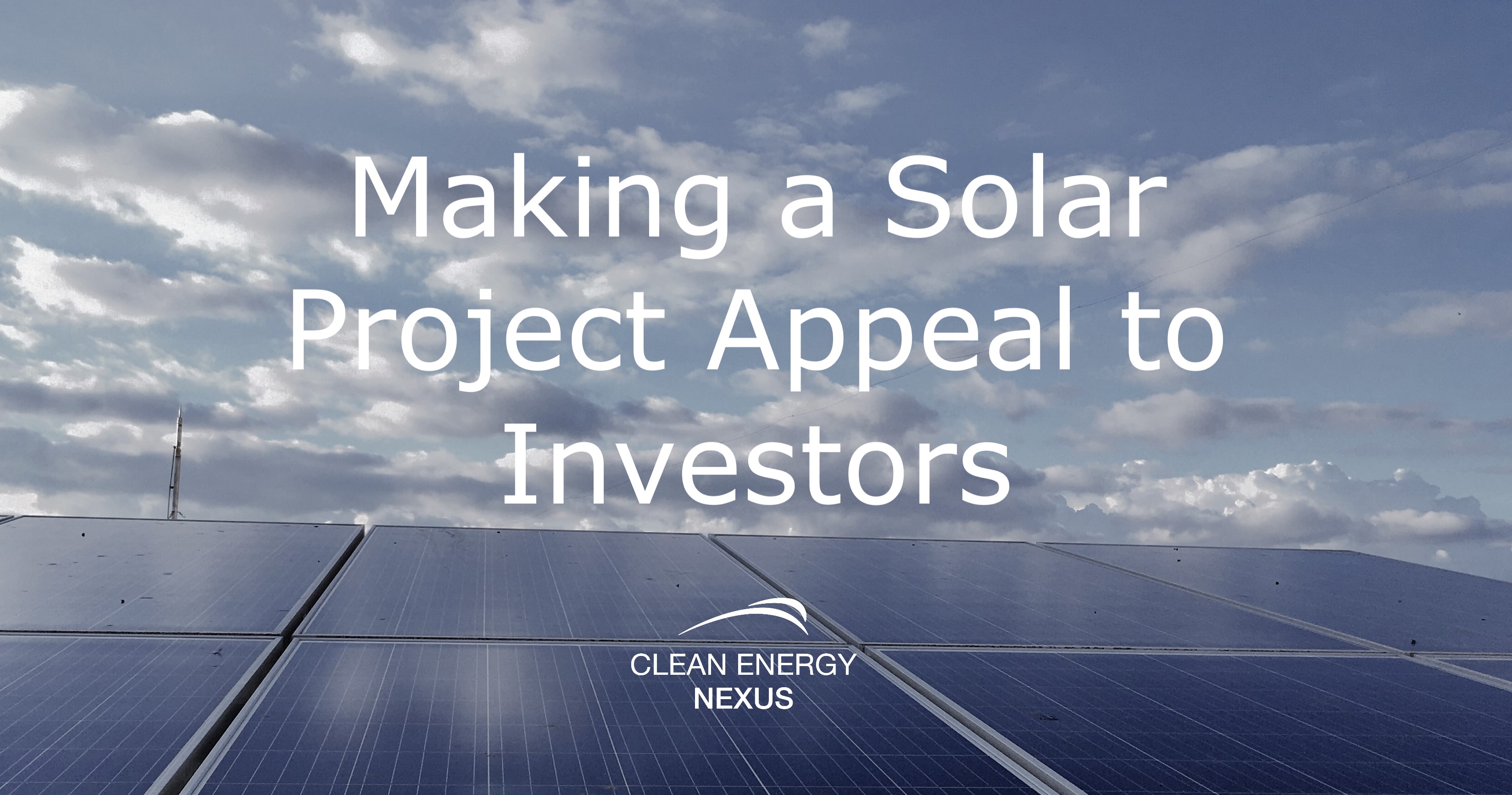 Investing in renewable energy is on the rise, and sustainable investing and integrating ESG (Environmental, Social, and Governance) evaluations into investment opportunities will continue to become more commonplace. There is increasing evidence that ESG factors tie into a company's long-term performance, and investing in renewable energy directly not only diversifies an investment portfolio, it is a solid investment with tax credit opportunities and set returns over time. Read more about including renewable energy in corporate sustainability programs here.
Renewable energy has benefited from recent governmental changes in the US. The Solar ITC (Investment Tax Credit) was extended two years to a December 2022 phase-out from Dec 2020. This provides companies and investors with an extra incentive to go solar, with battery storage in some cases. Instead of dropping to 22% in 2021 and then to 10% in 2022 and 2023, the 26% rebate has been extended to last through to the end of 2022 and includes both C&I and residential solar projects. In 2024 and beyond, residential projects will no longer receive a tax credit and C&I projects will continue to receive a 10% tax credit. Read more about solar tax equity here.
C&I projects are more appealing to an investor when they have a bankable offtaker. In the solar industry, an offtaker is a company that enters into an agreement with a power producer to purchase the produced electricity at a scheduled rate. The offtaker must have creditworthiness and an active interest in remaining in the same location for 20-25 years to commit to the power purchase agreement (PPA) and also appeal to a potential investor.
Production equipment should be chosen for longevity, reliability, and a low maintenance cost. Bloomberg New Energy Finance (BNEF) constantly researches large datasets of deals in the C&I solar market (and more) and can therefore determine what project equipment is being successfully underwritten by large financial institutions most frequently. BNEF collates the data and then rates solar panels and equipment quarterly and classifies equipment by tiers. Tier 1 equipment is the best of the best, and what investors should consider investment-grade equipment. Equipment should only ever be installed using a manufacturer-certified installer to maintain the manufacturer's warranty. Read about the future of clean energy and integrating battery storage and higher capacity solar panels into your project here.
Timing is also an important consideration when investing into a solar energy project. Permits and licenses can delay projects for many months and even years if they're not being handled by an experienced solar project manager and expeditor. Construction delays due to weather, misdirected or misplaced equipment, poor management, and inexperience can make a project higher risk. Being able to quickly assess a project early on and accurately predict when that project will achieve commercial operations is highly valuable to investors with time-bound investment objectives.
To recap, investors look for projects with a reliable electricity purchaser that will provide set returns long-term and can be built with a quick turnaround with high quality equipment.
Read more about financing C&I solar projects here.