The energy transition into renewables is underway, and as the demand for more renewable energy increases, so does the need for service providers in the industry. Solar has only achieved 3% market penetration (or it's share of total electricity generation) in the US as of the end of 2020, according to research from SEIA (Solar Energy Industries Association), and is poised to continue to grow in the years to come. If you're considering expanding your skill set or business to include solar, it's a great time to get into the industry.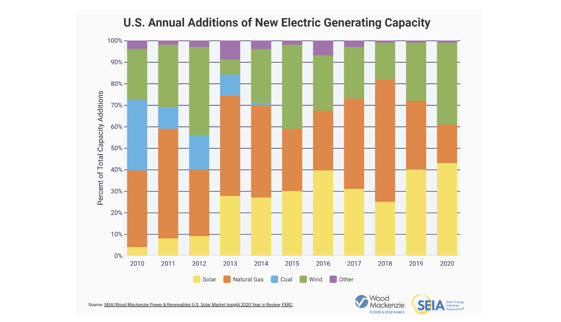 The green energy transition doesn't just apply to equipment, technology, and manufacturing. Translation of professional skill sets to include solar or pivot completely into the solar industry are just as important.
Determining what aspect of the industry to enter can be daunting. The solar industry is made up of many moving parts that come together in the cumulation of a completed and functioning solar power generation facility.
Split into two buckets, commercial and residential, there are many skill sets that apply to both. Commercial and industrial, or C&I, in part includes office buildings, warehouses, community solar, large scale ground mount or field systems, and utility scale solar. Residential solar includes primarily roof mounted solar systems on homes and sometimes field mounted solar panels if there is suitable land available.
Beyond those two buckets, the industry is further divided into specialties.
Developers or salespeople find clients and land for solar installations, which often includes needing to know the solar regulations and restrictions in that state and county. In utility scale solar projects they're often called landmen, since they scout land that is favorable to solar fields. People with experience in sales, real estate, contract negotiation, and with client-facing knowledge would find a transition to developer would build upon their existing skill sets.
Solar construction teams know the ins and outs of equipment such as solar panels, inverters, mounting equipment, and battery storage on top of standard construction and building knowledge. They're up to date on industry standards and building codes, have construction knowledge and experience, and either include an electrical engineer on their team or subcontract one out that is certified through NABCEP in solar electrical engineering. They often partner with manufacturers to install certain brands of equipment which is an advantage for the purchaser of the system, because the manufacturer's warranty is often only extended to certified installs. People and businesses with that construction knowledge, electrical experience, and project-based business skills will find their skill sets are used here.
Investors in solar will find they have many avenues to pursue. Large companies will invest in solar tax equity, investment firms can invest in five types of climate-focused funds that include solar (see more on those five types here), and singular investors can invest directly into a company or by purchasing shares in publicly traded solar companies, project specific as owner). Investing in solar right now requires additional due diligence, and those with investment and research experience will be able to transition their existing skill sets to solar in this way.
Solar integrators are companies that bring parties together, including investors and developers and clients, in order to successfully broker and complete a solar project. Businesses who have experience maintaining a large network of relationships across industries will become profitable transitioning their skill sets into becoming a solar integrator.
Those entering the industry should also know that there are different stages in a solar project, and each of those stages involves a different amount of time and expertise. Early stage projects are more time and expertise dependent and usually involve investing more upfront capital to develop, so it may be wise to consider becoming involved in a later stage project as you're just starting out in the industry. Early stage projects are still evaluating property and structures for viability, gathering permits, and signing legal documents. Mid-stage projects have reached site control and are ready to have an engineering plan created for a specific site, and are bringing together partners to develop the project. This stage often concludes with a Limited Notice to Proceed granted by the authority in jurisdiction over the project. Late stage projects have already had all of the permit work completed, are legally ready to build, and all of the partners and contractors are in place. Starting to work on late stage project is lower risk than a mid-stage project, and a mid-stage project is lower risk than an early stage project. Pricing on these projects often correspondent to the risk.
"If someone wanted to transition into solar, I would point them to a few of my favorite solar sites," says Daniel Gonzales, Project Expeditor at Clean Energy Nexus.
Gonzales's go-to websites include industry standard NABCEP (https://ww.nabcep.org/) for, he says, the "most recognized certification to hold in the solar industry", PV Magazine (https://pv-magazine-usa.com/news/) as a news source for all things solar, and NREL (https://www.nrel.gov/index.html/) as an excellent government-funded source for learning about photovoltaic R&D and solar market research and analysis, and even for usage of their free tools like the PVWatts calculator for creating your own solar projects.
Solar Power World Online (https://www.solarpowerworldonline.com/) is a "well-regarded organization that provides the latest solar news as well as (as list of) the top 500 solar companies in the industry every year for the last 10 years," says Gonzales, and he also recommends attending the annual Solar Power International conference (http://www.solarpowerpowerinternational.com/) and InterSolar conference (http://www.intersolar.us/) to network in the industry and have a little fun at the same time!
"Last, but not least, I would also recommend the r/Solar (feed) on Reddit (https://www.reddit.com/r/Solar/). This forum has over 65K members and many are there to help or ask questions of their own. I like the articles that are posted, but what I really like are the posts where customers (homeowners and even companies) ask for advice or for help with their solar problem and real people in the solar industry respond with solutions. It's like free training and a peek into the customer experience of going solar. (The feed) also has it's own solar Wiki resource and free training and career tools," says Gonzales.
In summary, there are many opportunities to continue learning and transition an individual skill set or business experience into entering the solar energy market in the industry's early stages right now. We're looking forward to taking part in the solar industry's boom and collectively developing the renewable energy industry with knowledgeable and energetic partners!